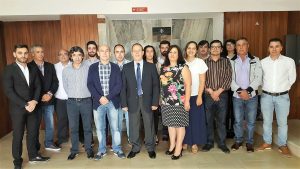 "Your success is our success!"
MISSION
Our mission has as its main objective to guarantee the satisfaction of all of our customers, through a rigorous, serious and dedicated work, with proposals that add value and, above all, quality. 
Being a reference in the textile industry is the objective that we intend to achieve, based on the support and conditions that are presented to the productive sector.
VISION
To continue with ideals to achieve goals of excellence and leadership, sustained by continuous improvement, perfecting the relationship with our customers, both in the National and International markets, in order to be a reference in the World panorama.
VALUES
            • Rigor;
             • Trust;
            • Seriousness;
            • Transparency;                 
            • Respect;
            • Dedication;
            • Commitment;
            • Orientation / Focus on Client.
Our commitment is to always keep our values in mind, both in our relationship with our clients, and in our relationship with our employees.